We're gonna start with something fun here because we like fun things, especially fun things that can be used to teach folks a thing or two. While doing a little research on energized trees, this video came up where this tree fell down, boiled from inside, and literally exploded.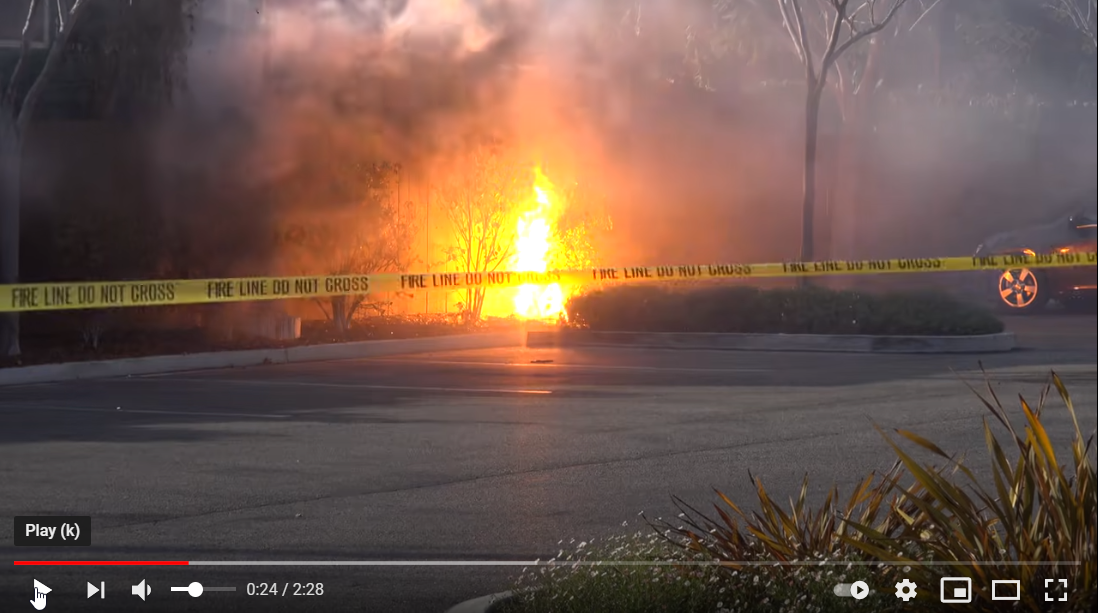 This video is only cool and fun because nobody got hurt. Firefighters were able to keep people safe, away from exposure to electricity.
However, as you are about to see electricity and energized trees can be pretty scary, especially when it comes to tree work. There are incredibly good reasons that here in the U.S., employers are required to certify electrical hazard training for arborists.
For arborists and other tree specialists, electrical hazards and energized trees are a very real and very serious job hazard. Let's talk about some tips for how tree workers can increase their safety on the job in regards to electricity.
Why Would Tree Workers Have To Worry About Electricity?
When we think about power lines, it's usually utility workers and linemen that we think of first. It may not be quite so obvious that Arborists end up working near tree workers with regularity, but facts is facts, Jack.
Arborists are sometimes specifically called to remove tree limbs because they are causing electrical hazards. Other times they are called to help with clean up after a storm.
Perhaps more often though, they are called to work in trees that are near powerlines and other sources of electrical energy by pure coincidence. In these situations, it may be a little less easy to remember to consider the hazards that electricity can pose.
Common Electrical Hazards In Tree Work:
Rain & Water Near Electrical Sources
Branches & Limbs Falling On Powerlines
Trees & Branches That Have Been Energized By Lightning
Secondary Conductive Objects Coming To Contact With Energized Objects
Minding Your Gear
If you have been doing tree work for a little while, you are probably sick of hearing people say "inspect your gear." People say this a lot, but that is of course because this is one of the most important things for arborists to do.
When working near electrical hazards, probably the most important precaution is to consider the dangers that electrical tools can pose.
Safer Practices With Electrical Tools:
Closely Inspect All Safety Features On Tools Before A Job
All Electrical Tools Should Have Independent Lanyards For In-The-Tree Work
Electrical Tools Without Self Contained Power Sources Shouldn't Be Used Anywhere That A Power Cord May Touch A Conductor
Chainsaws can be especially dangerous when it comes to electrical hazards and should be treated with incredible respect.
When inspecting your saws, pay close attention to safety features like spark arresters. If a chainsaw does not pass inspection, take the bar off and lock it off to make sure that nobody else uses it until it is repaired.
Related Article: Top Five Chainsaw Lifehacks: A Guide To Lanyards And Terrifyingly Dangerous Tools
Some Notes On The Hazards Of Indirect Electrical Contact
Approximately half of electrical fatalities in the workplace result from indirect exposure to an electrical source.
This typically happens when some part of a worker's body comes into contact with a conductive object that is touching another conducting object that has been energized.
There are two very important things to remember regarding indirect electrical contact. The first is that electricity can act in unpredictable ways. Electrical energy can "jump" from a conductor and compressed limbs can store energy.
The second thing to remember is that while gear like gloves and footwear with electrical resistance are both important, they should never be seen as sufficient protection against electrical shock.
Practices To Prevent Indirect Electrical Injuries:
Establish Clear Drop Zones For Limbs & Debris
Follow Minimum Approach Distance Standards Religiously
Limbs Should Be Removed From A Distance Whenever Possible
Be Aware Of The Fact That Electricity Can Act In Unpredictable Ways
Be Especially Vigilant About Compressed Limbs That Can Store Energy
Never Treat Gloves Or Footwear As Sufficient Guards Against Electricity
The Ten Foot Rule
Above, we just mentioned Minimum Approach Distance Standards. These are the standards dictated by legal regulations, utility companies, and employers regarding how close workers can get to power lines and other direct sources of electricity.
Generally only qualified and certified line clearance tree workers are allowed within Ten Feet of power lines. One thing that is easily forgotten is that power lines may appear insulated, but they are not. This is part of the reason strict adherence to the Ten Foot Rule is so important on job sites.
Some Less Obvious Risks
Direct power lines are sort of obvious hazards when doing tree work, but there are other hazards that are far less obvious.
Some Electrical Hazards You May Not Have Considered:
Street Lamps
Humid Weather
Telephone Lines
Distribution Lines
The Importance Of A Dedicated Spotter
Most job sites should have at least two ground spotters for tree work. When working in close proximity to power lines, there should always be a dedicated spotter solely monitoring for electrical hazards.
Communication With Utility Companies
A job foreman should communicate directly with Utility Companies. It will be their job to get information about electrical hazards and ensure that all power lines are deactivated and safe on a job site.
Before any work is done, OSHA requires a Job Briefing including everyone in a crew. During this time electrical hazards should be a central part of these discussions.
Don't Die At Work
Tree Work is incredibly important. The well being and safety of the public is often on the line. Of course the well being of trees and plants are almost always on the line.
Even with Arborists being so important to safety and the environment, no job is worth dying for. Workplace safety should always be at the top of priorities for foremen, tree workers, and spotters. Following safety protocols will significantly decrease the likelihood of workplace injuries and fatalities.
Above all, we hope that you will stay safe on the job!