With Southern California facing one of the driest years in recent history, people are rightfully rethinking what types of trees they should plant on their property.
If you are thinking about replacing the grass in your lawn with drought resistant trees and plants, this is a perfect time. This shift will be better for both the environment and your water bill, which may soon be skyrocketing.
While this guide will have a heavy emphasis on native plants as they are intrinsically often some of the most sustainable trees, we also will talk about some drought resistant trees that come from similar climates to our own.
1. The Western Rosebud
The Western Rosebud is definitely one of the most impressive trees fit for the unique climate of Los Angeles. In terms of both sustainability and aesthetics, it checks off nearly every box.
Aside from just being drought tolerant, it is resistant to the Oak Root Fungus that plagues many native plants. This tree commonly grows naturally in foothills and easily adapts to different types of soil.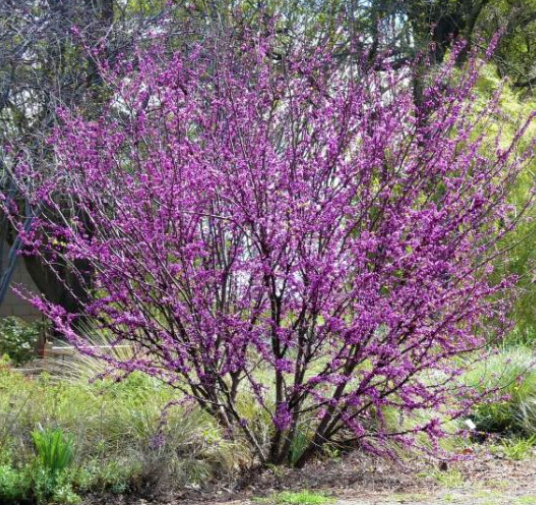 Wester Rosebud Features:
California Native Tree
Resists Most Types Of Pests
Resistant To Oak Root Fungus
Highly Tolerant To Drought Conditions
Friendly To Hummingbirds & Gold Finches
Adaptable To Many Different Types Of Soil
Produces Beautiful Magenta & Pink Flowers
Supports Pollinating Insects Like Bees & Butterflies
2. The California Fan Palm
Palm Trees are obviously an iconic part of the scenery of Los Angeles. What many people don't know though is that most Palms are actually not native to California. In fact, the California Fan Palms is actually the only species of Palms that is native to our part of the world.
The California Fan Palm is uniquely equipped to survive many wild fires. It actually seems that many of these Palm Trees actually grow stronger roots after being exposed to fire.
Although The California Fan will benefit from some watering, it does adapt well to drought conditions, and will survive water shortages.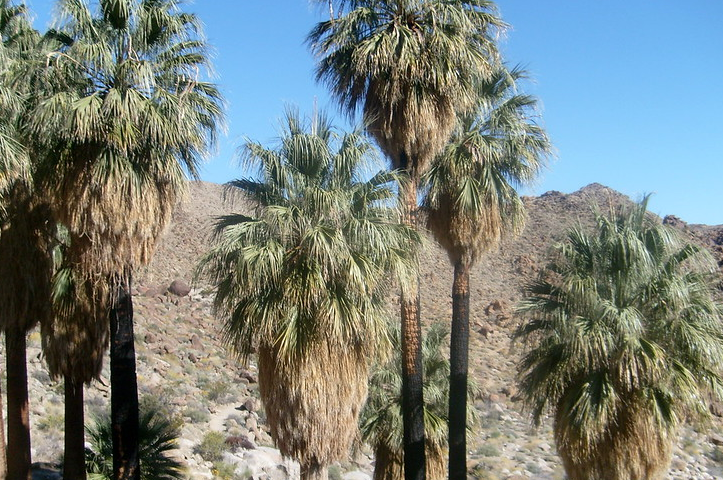 California Fan Palm Features:
Tolerates Acidity
Survives Most Floods
Attracts A Variety Of Birds
Grows Well In Sandy Soils
Survives Hot & Cold Temperatures
Uniquely Suited To Survive Wildfires
Benefits From Watering But Can Survive Droughts
Grows Up To 50 Feet Without Requiring Much Space
The Only Species Of Palm Tree That Is Native To California
3. The Shademaster Honeylocust
The Shademaster Honeylocust may have some difficulty with flooding, but it will thrive in dry soil and survive drought conditions. These trees are incredibly low maintenance and their leaves will create a natural mulch without creating an eyesore.
As one would assume, these trees are great for casting shade while also allowing for filtered light to plants growing beneath them. They coexist well with pavement, making them good street trees.
Although they are not native to California, they are native to North America and generally survive well in Southern California.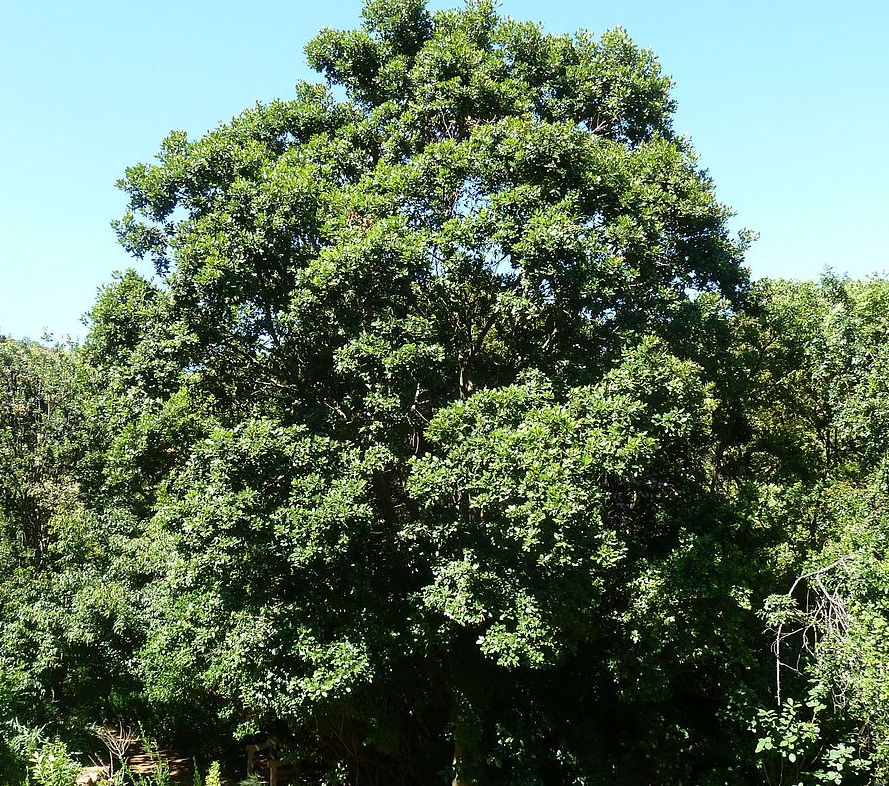 Honeylocust Shademaster Features:
Grows Fast
Attracts Bees
Tolerates Acidity
Fern Like Foliage
Low Maintenance
Excellent Street Trees
Native To North America
Tolerant Of Heat & Drought
Provides Beautiful Filtered Light
4. Brisbane Box
It may seem strange that some trees from Australia would be making this list, but the Southwestern Region of Australia has a very similar Mediteranean Climate to the Southwest of the United States. This allows for plants to be pretty well compatible with both parts of the world.
The Brisbane Box grows absolutely beautiful flowers. If you live in an area with a lot of fog or some frost, this tree may not hold up especially well, but it is absolutely wonderful for warm areas with dry soil.
Another excellent feature of the Briz Box is that it holds up very well to smog and will help clean up the air. This is always welcome in Southern California where freeway traffic unfortunately creates a smog level that we would call gnar gnar.
Like the Shademaster, this tree is often used as a street tree, though it does leave some debris on cars and does best with 15-20 feet of growth room surrounding it.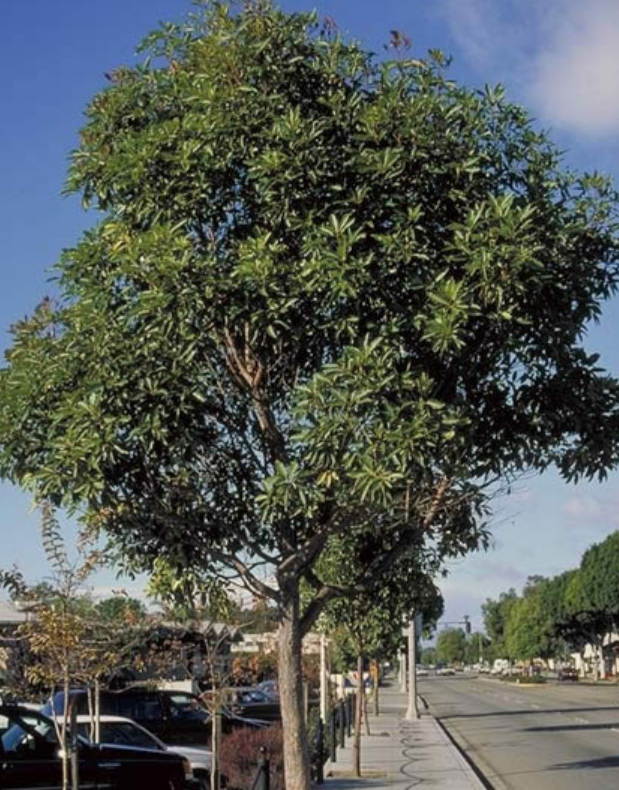 Brisbane Box Features:
Combats Smog
Ideal For Dry Soil
Excellent Tree Structure
30-50 Height At Maturity
Produces Beautiful Flowers
Some Difficulty Surviving In Frost & Fog
5. California Junipers
If you are looking for a more modest tree, California Junipers are an excellent choice. Initially it requires a good amount of water, but once it is established, it needs almost no water at all.
Cal Junipers will remain shrub sized for quite some time before growing to tree height. They grow lovely blue berries that will attract wildlife and make your property prettier.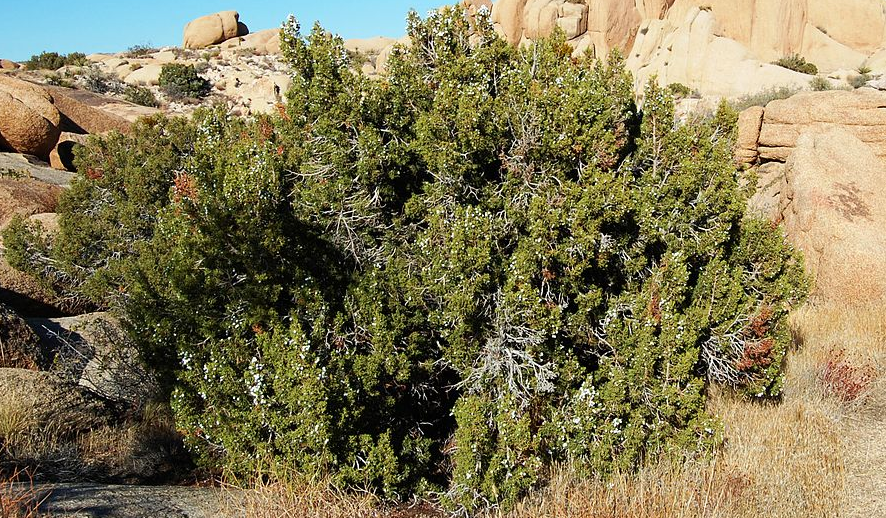 California Juniper Features:
Resists Acidity
Native To The Southwest
Does Not Require Watering Once Established
A Modest Evergreen That Stays Shrub Sized For Some Time
Produces Lovely Blue Colored Berries That Attract A Variety Of Wildlife
6. California Box Elders
If you are living in an area like San Diego County, where there is generally some water available from streams, but there are also some drought conditions, the California Elder will be a good fit for your climate.
In other areas, it will need a good amount of water at first, but later develops pretty solid drought resistance. The California Box Elder holds up pretty well to extreme temperatures and wind.
Some people are turned off by the fact that Box Elder Trees attract Box Elder Bugs. They are a little creepy looking and a little stinky if you squish one, but they are generally harmless.
The California Box Elder Tree creates gorgeous leaves in Fall and modest but lovely flowers in early Spring. It is great for shade and attracting birds and wildlife in general.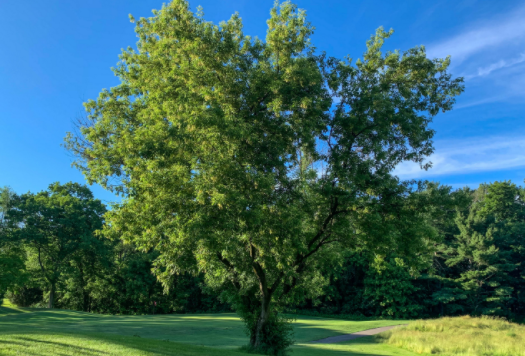 California Box Elders Features:
Gorgeous Leaves During Autumn
Grows Naturally In San Diego County
Excellent Tree For Pollinators & Various Birds
Produces Modest But Lovely Flowers In Spring
Develops Great Drought Tolerance When Mature
7. California Holly Trees
Talk about iconic- Hollywood was literally named in reference to the California Holly Tree, which often appears as a shrub in its youth.
It is sometimes called A Christmas Berry Tree as it produces incredibly beautiful red berries that can be eaten if you cook them. They also sprout white flowers that are like candy for bees and butterflies.
These Holly Trees need no fertilizer, provide wonderful erosion control, and are highly drought tolerant.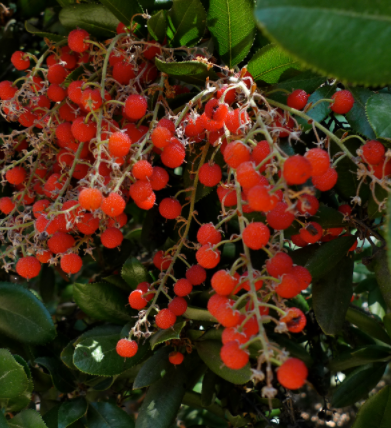 California Holly Features:
Requires No Fertilizer
A Broadleaf Evergreen
Excellent Erosion Control
Extremely Drought Tolerant
Native To Coastal California
Produces Distinct "Christmas Berries"
White Flowers Will Attract Bees & Butterflies
Often Appears As A Shrub But Can Grow 8-30 Feet Tall
8. The Australian Willow
As you may guess, like the Brisbane Box, The Australian Willow is native to the Southwestern Region of Australia.
This low maintenance tree adds excellent shade, and once it becomes established it is very tolerant to drought. It can adapt to most soil types and since it has few root problems, it is an excellent street tree. In maturity, it is quite majestic, quite often growing to 30 feet.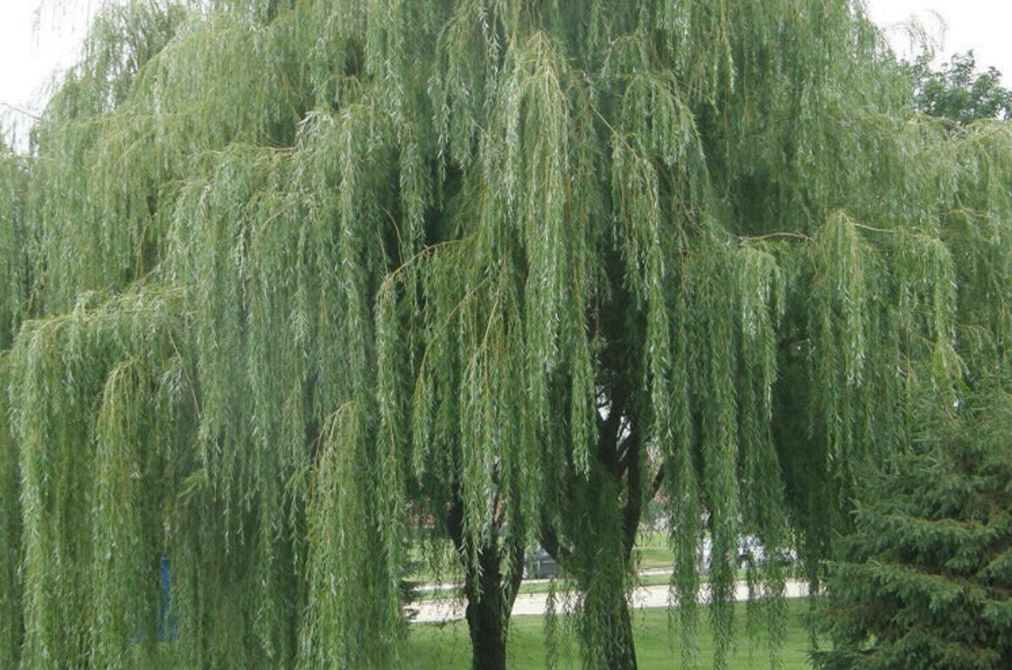 Australian Willow Features:
Great For Shade
Low Maintenance
Non-Invasive Roots
Excellent As A Street Tree
Ideal For Both Coastal & Dry Climates
Versatile For Many Different Types Of Soil
Native To The Mediterranean Climate Of Southwest Australia
Often Grows To 30 Feet In Maturity Without Requiring Much Space
We're Outta Here, But First Here's Some Tips
With California's drought only getting worse, we know that many of you out there are looking for new ways to think about planting on your property. As you can see, there are some excellent and diverse options for drought tolerant plants out there.
Before you start tearing out your lawn, take a second and read a few plants.
Some Tips For Planting:
Plant Trees In The Fall, Just Before Rain Season
Seek Out Trees That Are Native To Mediteranean Climates
Bonus Points Go To Trees That Are Friendly To Birds And Bees
Consult With An Arborist Who Specializes In Native & Drought Resistant Plants
While we have focused on many native trees in this article, it may be worth it to mention that not all native plants are drought resistant, even living in a natural desert. Fruit trees and avocado trees in particular are very thirsty plants.
Whatever trees you end up planting, we wish that your thumbs turn green and that you get everything you are looking for out of your beautiful plants!