Dane is the type of person who is driven to help others. From the moment you meet him you know, this is a person who is going to change the world in the best ways. That's why we are excited to share his story and put the spotlight on him. Keep an eye out for this guy and if you know someone who has a story to share and deserves the spotlight pointed their way, don't hesitate to reach out.
CUSTOMER SPOTLIGHT: DANE DEBOER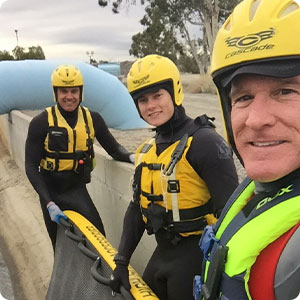 1. Tell us about yourself. What did you want to be as a kid?
I was active with sports, recreation, and exploration with a love of water and the ocean. After successes in high school and college competitive water polo and swimming, I spent 20+ years as an Ocean Lifeguard, 10 years in Industrial Sales, 4 years Orange County Deputy Sheriff, and currently 14 plus years Firefighter Paramedic with the Los Angeles County Fire Department.
2. What got you in your line of work?
My aptitude test out of high school pegged me as a "Nurse". Over the years I have realized that I have gravitated to occupations requiring those exact qualities identified. My character for wanting to help people lead me to doing just that as a Firefighter/Paramedic.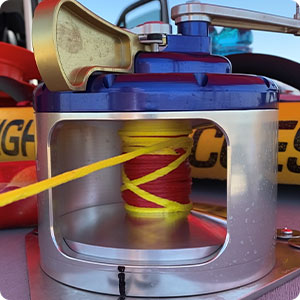 3. What do you love about what you do?
I have always enjoyed working to solve problems making the processes in life more efficient and safer for people in need. From the 911 patient that needs a little TLC with a minor medical need to reacting quickly to save a person in a life-threatening situation, I have enjoyed being the one that someone looks to for help.
4. What do you find challenging about what you do?
Every day and every situation is different and working to find the most caring, efficient, and safest path to success makes every day rewarding.
5. What advice do you have for people thinking about doing the same thing?
Success is 90% preparation and 10% luck. Work hard to find your passion and remember that the journey of life is not always a straight line.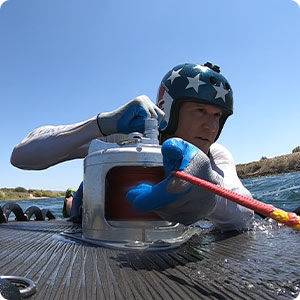 6. How has social media impacted your work life?
In creating my Patented Water Rescue Sled I have used social media and access to information to understand the needs of the Technical Swift Water Rescue environment. I used that information to invent the most operationally capable, quickly deployable, and safest rescue sled platform available anywhere in the world.
7. What do you look for when handling rope?
In working with Pelican Rope Works I have found help with engineering innovation and product reliability enabling me to achieve the highest degree of standards required in the Technical Swift Water Rescue World.
8. Final Thoughts…
Dane - we thank you for doing what you can to make the world a safer place.
If you or someone you know is a customer of ours and wants to be featured please email us at marketing@pelicanrope.com. We'd love to connect and share your story and see how you're using our products.